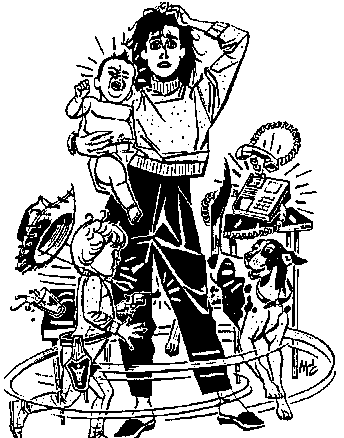 Today was one of those days........just nonstop and hectic. I started out by waking up at 5:30 a.m. and making four kid lunches and my own lunch. Then, I spent an hour preparing a beef stew for the crock pot (this one did not qualify as "easy" since it required so much prep work!). I needed 1/4 cup of red wine so I had to wake Jeff because: 1. I don't drink wine 2. I can't open wine and 3. The wine is in the "wine cellar" which is the crawl space and I don't go there. Since he was awake anyway, I decided to ask him to make a loaf of bread in the bread machine for dinner. Then, I got all the kids out the door (I had to skip going to the bus stop because I was naked just out of the shower! And I didn't want the neighbors to have to poke their eyes out with a fork after seeing THAT!). I raced to work (late as usual) and worked a few hours before having to take off again to take Hannah to an orthodontist appointment. Since that was going to take 45 minutes, I let Hayley know I would be happy to provide a ride for her and her friends to Starbucks during their "extra long lunch" today. Well, that was a disaster. For one thing, I offered a RIDE, not to buy them all a drink. But that's how it turned out, because my ever tactful (and not always truthful) daughter told her friends I was "taking them to Starbucks" meaning, I guess, treating them. I did not agree, but was informed of the "no money" situation as we pulled into the parking lot. Really lame. And not cool at all. Hayley really needs to learn about not taking advantage of her mom.
So, after dropping off my van full of high-schoolers, I headed back to pick up Hannah and take her back to school. Then, I went back to work. A few hours later, I raced from work to pick Hannah up at school yet again (she stayed after) and on the way there, realized I had no gas! I also had 20 minutes to get gas, pick up all the kids and have everyone delivered to their various lessons by 4. So, since gas was the priority, I stopped and dropped $52 on a tank of gas, and $9 on various junky snacks to keep the natives quiet. I called Hayley and informed her to meet me in front of the house with 2 Advil and be ready to jump in the car. Finally I had all the kids wrangled and we headed to the girls' art class. We made it with five minutes to spare. Then took the freeway to try and make it faster to Arlie's gymnastics. She was ten minutes late.
After dropping her at the curb, Harrison and I headed to Target because we needed dog food. I figured that was the closest place to gymnastics where I could get the brand of dog food we need. Wrong. Now, you may find this unbelievable, but my dog is a vegetarian! Seriously. Just the one dog, Georgette. She is actually allergic to meat. She can only eat salmon or soy based dog foods or she gets skin allergies (I mean, really, what IS that crap? She's a DOG!). So, I was looking for our trusty Beneful. But had to settle for some other brand that was salmon based (with added yogurt for my dog's sensitive digestive system..........spare me!). A quick scan of the clearance racks and we were racing out of Target and back to pick Arlie up - with one minute to spare. Harrison ran in to retrieve her while I circled the parking lot. As soon as I had both kids in the car, we headed to the hairdressers. Now, Harrison had an unfortunate incident with some scissors (ok, I tried to cut his hair) and for all of today was sporting the classic "Dutch Boy" look - blonde, bowl haircut (I did not use a bowl, but I might as well have!). I started with his bangs, but I just couldn't take the shaggy 'do anymore! (See picture in previous post). Thankfully, Marie, who is a hair god icon, fixed his sad hair in just fifteen minutes. That left me 18 minutes to pick up the girls from art class. We made it just in time and I finally had all four kids again as we turned toward home. At least we had that nice dinner awaiting us!
I was really looking forward to an adult beverage when I got home but we were tragically out of fixings for my favorites so I had to settle for three fun size Milky Way's and a glass of milk. Ah well.......my eyes are heavy.............g'night!